Viral video captures plump snapping turtle nicknamed "Chonkosaurus"
Footage of a plump snapping turtle relaxing along a Chicago waterway has gone viral after the man who filmed the well-fed reptile marveled at its size and nicknamed it "Chonkosaurus."
Joey Santore was kayaking with a friend along the Chicago River last weekend when they spotted the large snapping turtle sitting atop a large chain draped over what appear to be rotting logs.
He posted a jumpy video of the turtle on Twitter, labeling it the "Chicago River Snapper aka Chonkosaurus."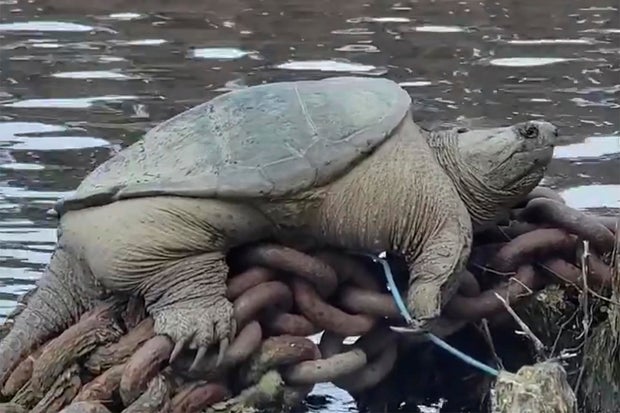 "Great to see this beast thriving here on what was once such a toxic river, but is slowly getting cleaned up & restored," Salvatore wrote on Twitter. "Somebody planted a bunch of native plants up the river from here, too. I can only wonder this things been eating."
In the video, Santore can be heard exclaiming over the size of the turtle, which was displaying folds of flesh extending well beyond its shell. The video has over 600,000 page views as of Friday morning.
"Look at this guy! We got a picture of this most beautiful sight. Look at the size of that … thing," he says, using an expletive. "Look at that beast! Hey, how ya doing guy? You look good. You're healthy."
Chris Anchor, the chief wildlife biologist with Forest Preserves of Cook County, said the snapping turtle Santore filmed is quite rare, considering its apparent size. He said it's also unusual for the reptiles to be seen basking along rivers, and that it probably recently emerged from hibernation.
"So my guess is that this animal had crawled out of the river to try and gather as much heat as it could in the sunshine," Anchor told WMAQ-TV.
While it's difficult to determine exactly how large the turtle is from the video alone, Anchor called it "a very large individual." And he noted that snapping turtles are not picky eaters.
"Turtles this big will consume anything they can get their mouth around," he said, adding that anyone encountering a snapping turtle should not disturb it or try to catch it.
"Enjoy it. Leave it alone," Anchor said.
Last year, a photo went viral when a Minnesota mother took a picture of massive snapping turtle's close encounter with her kayak.
Thanks for reading CBS NEWS.
Create your free account or log in
for more features.