U.S. braces for end of Title 42 as wave of migrants builds up along border
Starting at midnight tonight, the Biden administration cannot use COVID-19 as a reason to expel migrants at the southern border. But as a wave of migrants builds up along the border, it is launching a new policy to crack down on illegal border crossings.
The new regulation, expected to face legal challenges, represents a significant change in asylum policy. It disqualifies migrants from receiving U.S. protection if they don't seek refugee status in another country, like Mexico, during their journey to the southern border.
Earlier this week, U.S. Border Patrol reported a one-day record number of apprehensions: more than 10,000 — and that was before Title 42 ends. Mayors of some U.S. cities along the border have declared a state of emergency while struggling to take in migrants.
For many U.S.-bound migrants at a camp on the Mexican side of the border, their journey has stalled. Ana Pabon said she has been trying repeatedly to book an appointment for an asylum hearing for her family.  
Pabon fled Venezuela and made it to the city of Juarez back in January. She's spent every day since then constantly refreshing a U.S. government app in hopes of getting an asylum hearing, without luck.
She's one of many who have been waiting for months, some in shelters. They are anxious and determined, yet unable to even start the process. 
"Each day we have renewed hope that tomorrow it's going to work, but all we get is an error message," one migrant said.   
The Biden administration's new policy could prevent tens of thousands of migrants like them from gaining asylum in the U.S. if they didn't seek it in another country, like Mexico, first.  
"Do not risk your life and your life savings only to be removed from the United States if — if and when — you arrive here," Homeland Security Secretary Alejandro Mayorkas said. 
Under the new policy, asylum seekers will also have to pass heightened standards or face banishment from the U.S., in some cases for up to five years. Many will now be sent back over the border to Mexico, filling shelters like the one run by Karina Breceda. 
"My biggest concern right now is that we already have a backlog," Breceda said. "We are already at capacity here on the Juarez side, we don't have dignified housing for people." 
She said this shift in policy will not deter migrants from attempting to reach the U.S.  
"All the countries they have passed through and all the dangers they are facing here … everything that's happened along the journey — nobody is going to give up and go back," Breceda said. "They're going to keep on trying. They're resilient people." 
The House will vote Thursday on a Republican-scripted bill aimed at strengthening enforcement efforts at the border. It would resurrect Trump-era immigration policies like funding a border wall and require businesses to verify employees' legal immigration status. President Biden said he would veto the bill should it reach his desk.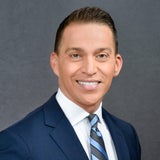 Manuel Bojorquez is a CBS News national correspondent based in Miami. He joined CBS News in 2012 as a Dallas-based correspondent and was promoted to national correspondent for the network's Miami bureau in January 2017. Bojorquez reports across all CBS News broadcasts and platforms.
Thanks for reading CBS NEWS.
Create your free account or log in
for more features.