The Best Smart Lights in 2023
Summer's almost here and that means it's finally time for long nights again! Naturally, long nights need more lights, but we're living in the future so why settle for anything other than the best smart lights money can buy? Even those looking for a bargain can find affordable smart lights to spruce up their space.
Smart lights allow users to control them from afar, either with a remote or from a synced PC. They're great for adding mood and atmosphere to any setting, but some of them are also genuinely good lights for everyday use. From decorative string lights to smart lights for your PC, here are our top choices for the best smart lights so far this year.
Phillips Hue

Best Overall Smart Light

Govee RGBIC LED Neon Rope Lights for Desks

Best PC Smart Lights

Kasa Smart LED Light Strip

Best Budget Smart Lights

Govee Glide Hexa Light Panels

Best High-End Smart Lights

Nobent Smart WiFi Fairy Lights

Best Smart Fairy Lights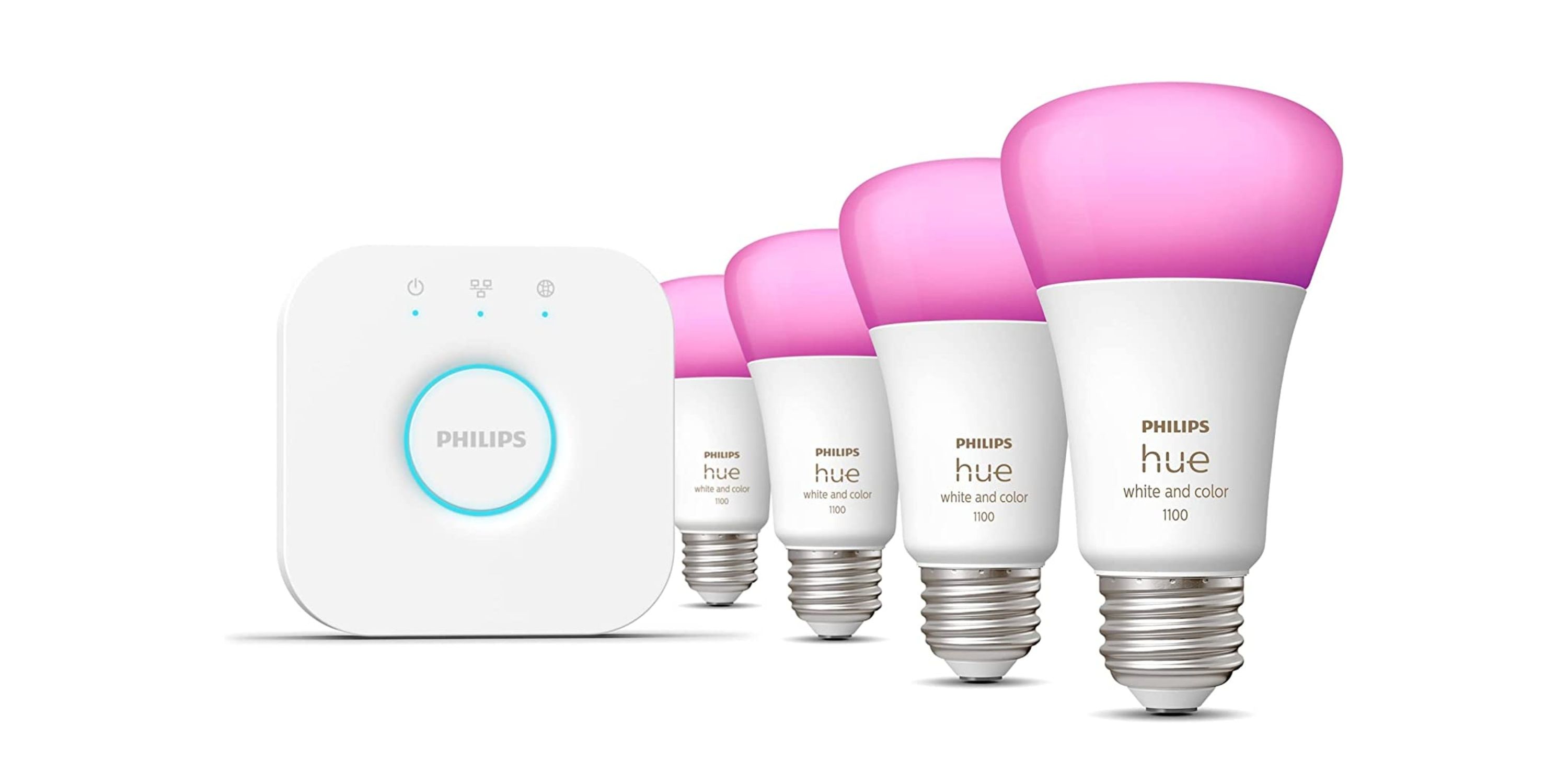 Phillips Hue
Best Overall Smart Light
$170 $200 Save $30
The Philips Hue LED Smart bulb is an awesome smart bulb with a wide compatibility. Connect to Google Assistant, Amazon Alexa, through the companion app, or simply with the provided remote and control the mood of any space. With 16 million colors to choose from and dozens of customization options, this smart light bulb is one of the best in the business.
Pros
Extremely wide device compatibility
Very easy to install and control
16 million different light colors to choose from
Can be used almost anywhere
Cons
Very expensive
Must have a Hub device to use app controls
The Philips Hue LED Smart bulb offers millions of colors and complete control within one standard light bulb. This smart light bulb can be changed to any one of 16 million colors, either one at a time, synced with music, or according to a custom program created in the app. What's special about this smart light is its simplicity; it's just like a regular light bulb, except that it works with Alexa and Google Home and fits into most modern light fixtures.
Although it's really expensive, it is one of the only smart light bulb options with the functionality offered by the Phillips Hue smart bulb, let alone the ease of control. This smart light looks great and should last a long time, so for anyone looking to add a bit of futuristic prestige to their home the Phillips Hue LED smart bulb is well worth the price.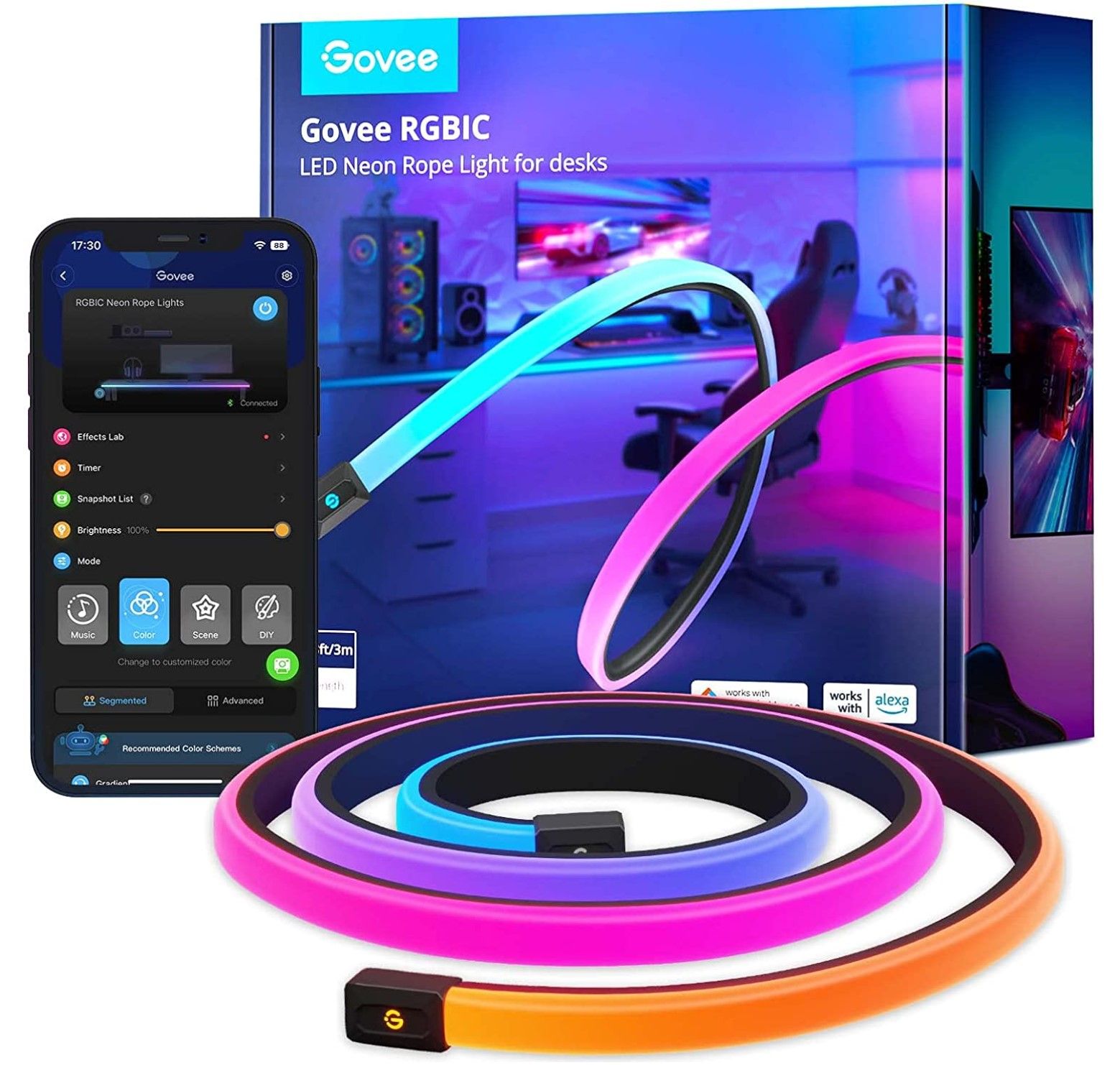 Govee RGBIC LED Neon Rope Lights for Desks
Best PC Smart Lights
The Govee RGBIC LED Neon Rope Lights for Desks is the easiest way yet to add spectacular lighting to gaming desks. Featuring 42 customizable segments, the 84 RGBIC light beads produce a never-ending variety of patterns and colors. The 10-foot neon rope light strip has 12 cutting points allowing users to create a strip from 7 to 10 feet long. Constructed with a soft silicone material, the light strip resists inevitable bumps and bruises near a gaming desk. 
The neon rope lights are compatible with Google Home, Amazon Alexa, as well as Govee's AI Dreamview Sync, and Razer Synapse software. 
Pros
Very flexible and customizable
Easy to install
Compatible with Razer Chroma
Cons
Not bright enough to be a main light
A bright and colorful strip of light, the Govee LED Neon rope lights are the best smart lights for PCs thanks to a flexible design that presents the ultimate customization opportunity. Users can actually cut the rope to whatever length they need and simply attach a power cap to the end. The bendable nature of the rope means that it fits any desk shape, and there are often extra savings to be had when buying more than one rope at a time.
Once attached to whichever PC gaming desk a player has, the lights can then be synced with games, music, and more through both the Govee AI Gaming Sync Box and Razer Chroma, plus of course Alexa and Google Assistant. Along with 14 customizable lighting zones per meter, and millions of colors to choose from, PC gamers can do basically anything with the style of their space using Govee's Neon rope smart lights. Make sure to check out our Govee LED Neon rope lights review!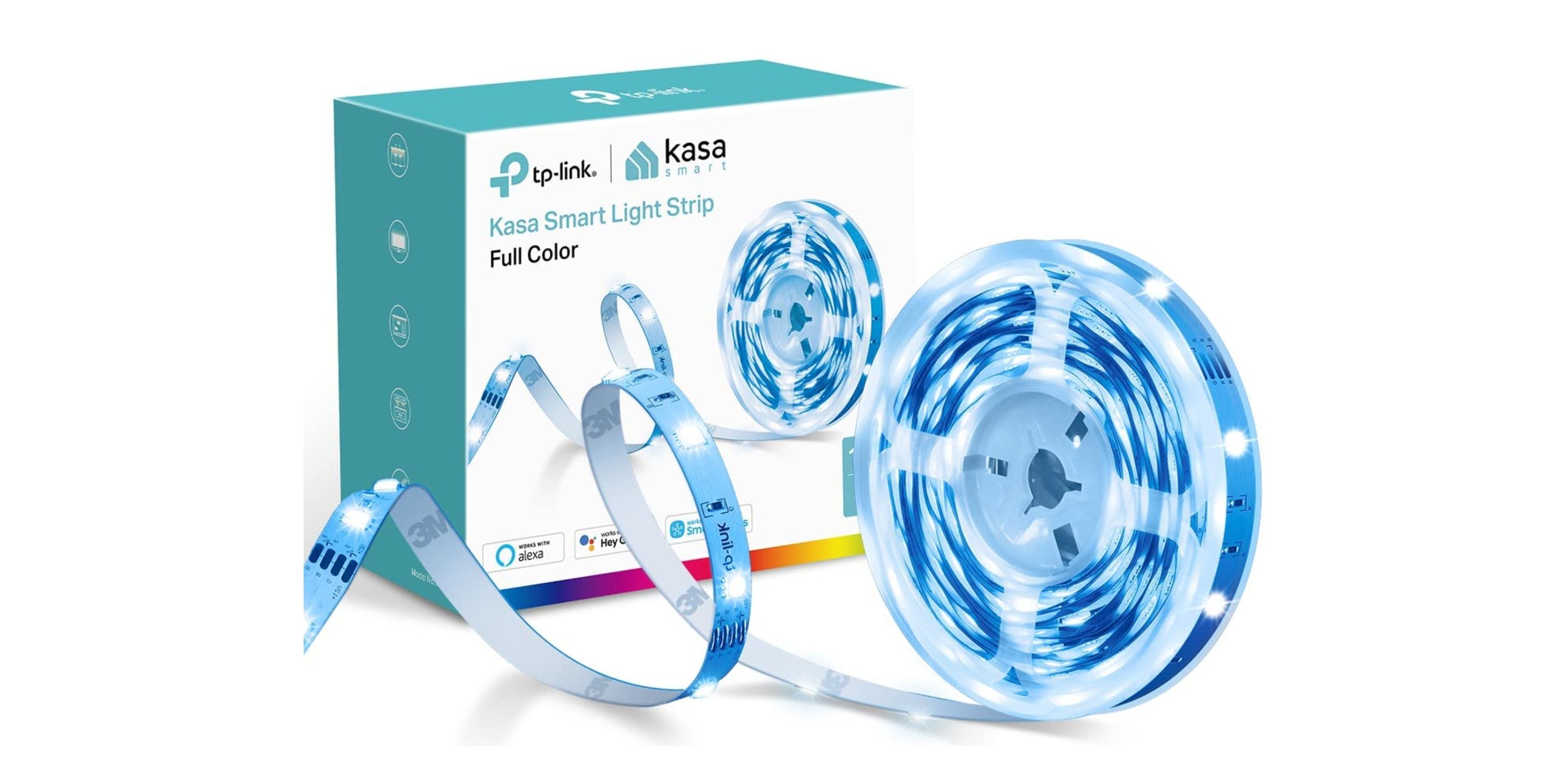 Kasa Smart LED Light Strip
Best Budget Smart Lights
$19 $25 Save $6
The Kasa Smart LED Light Strip is an affordable yet powerful smart light that can connect to both Amazon and Google voice controls. The lights also feature customization up to 16 million colors with high brightness & saturation, advanced animated lighting effects, and the flexibility to bend and cut the strip to fit any needs. 
The customizability is awesome, with timers and scheduled changes easy to set. Users can even can group multiple Kasa devices together to suit different activities like gaming or a movie night. Smart Actions allows sequences, so users can have the lights turn on in response to motion detection.
Pros
Great for backlighting
Very affordable
Flexible design
They aren't the prettiest lights around, but the Kasa smart LED light strip is one of the most affordable options when it comes to smart lighting. Ideal for backlighting, undermount lighting, or simply decoration, this smart light strip is easy to customize.
Similar to the Govee neon rope, this light strip is flexible and can be cut to size without expertise. The trade-off that makes the Kasa smart lights so cheap is the fact that the lights aren't as soft or finished looking as higher end options. Ultimately, sacrificing a polished look for the sake of a lower price tag pays off for the Kasa smart lights. Considering that the lights can be controlled through Alexa, Google, or the Kasa app at a fraction of the cost of other light strips, users looking to save will have a lot to love about the Kasa smart LED strip.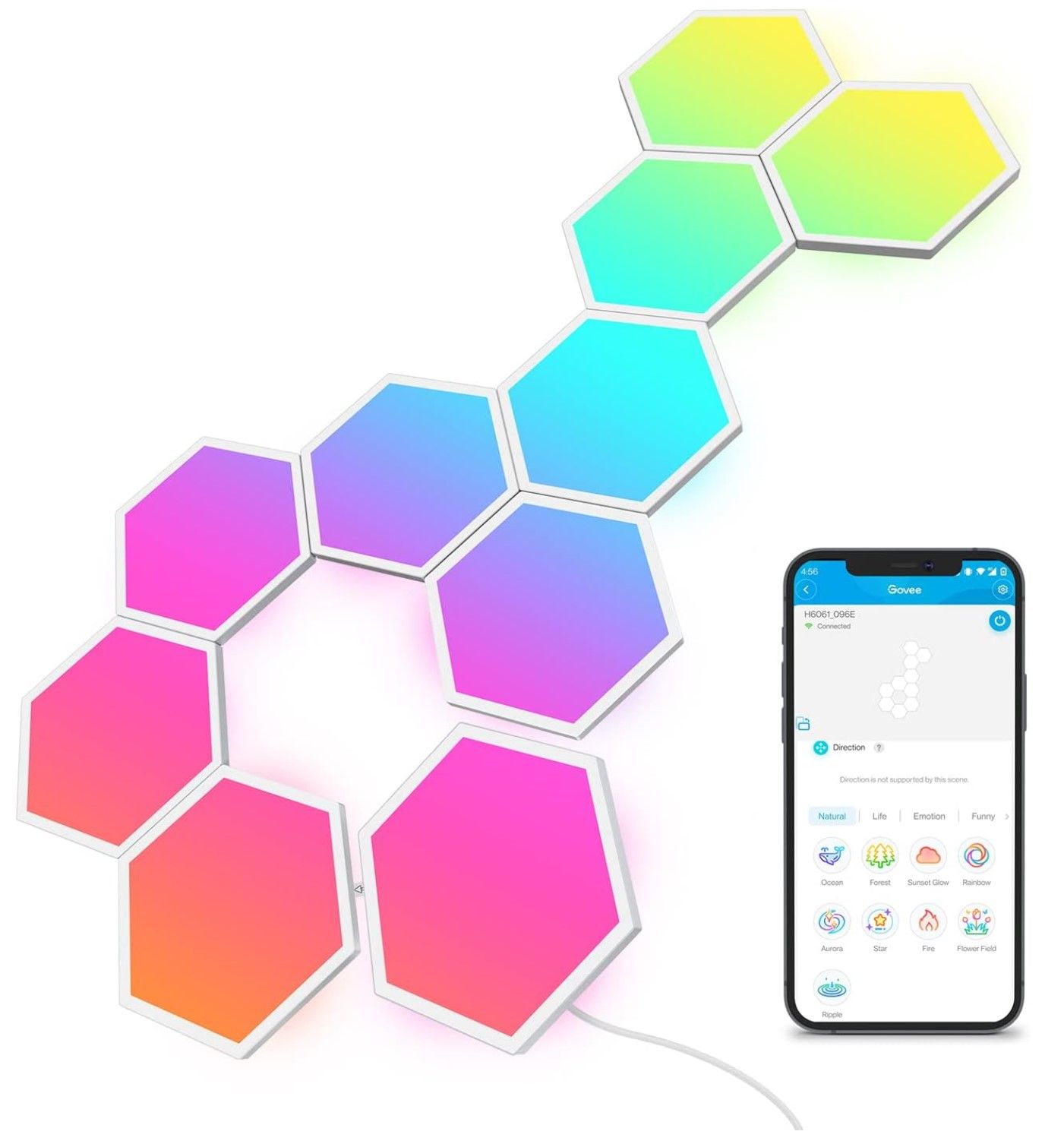 Govee Glide Hexa Light Panels
Best High-End Smart Lights
$180 $200 Save $20
The Govee Glide Hexa Light Panels are works of art suitable for any gaming room, sparking conversation even before they are illuminated. Govee's RGBIC technology lets each hexagon-shaped panel light up with multiple colors simultaneously.Unlike other RGB wall panels, the Glide Hexa Panels include lights on each side of the hexagon shapes, casting light on the surfaces of walls. The panels are also compatible with Google Home and Amazon Alexa, for voice commands and synchronization with other smart home lighting.
Pros
Can be customized and rearranged on the fly
Soft lighting is great for dark rooms
Geometric shapes look cool
Cons
Distinctive look won't work in every space
The best high-end smart lights are, unsurprisingly, some of the coolest smart lights around. Govee's Hexa Light Panels come in packs of up to 10 and can attach to each other in any combination. These lights definitely add a sci-fi vibe to any room, but using them in a gaming space just feels right.
RGB PC fans will especially love the Razer Chroma support, which allows the hexagonal lights to sync up with the rest of their PC lighting. Additionally, there's still the standard support for Alexa and Google Assistant built in along with Govee's own home app. As the cherry on top, the lights themselves are fairly large, work together to create beautiful fading colors, and can be synced up to music and gaming audio.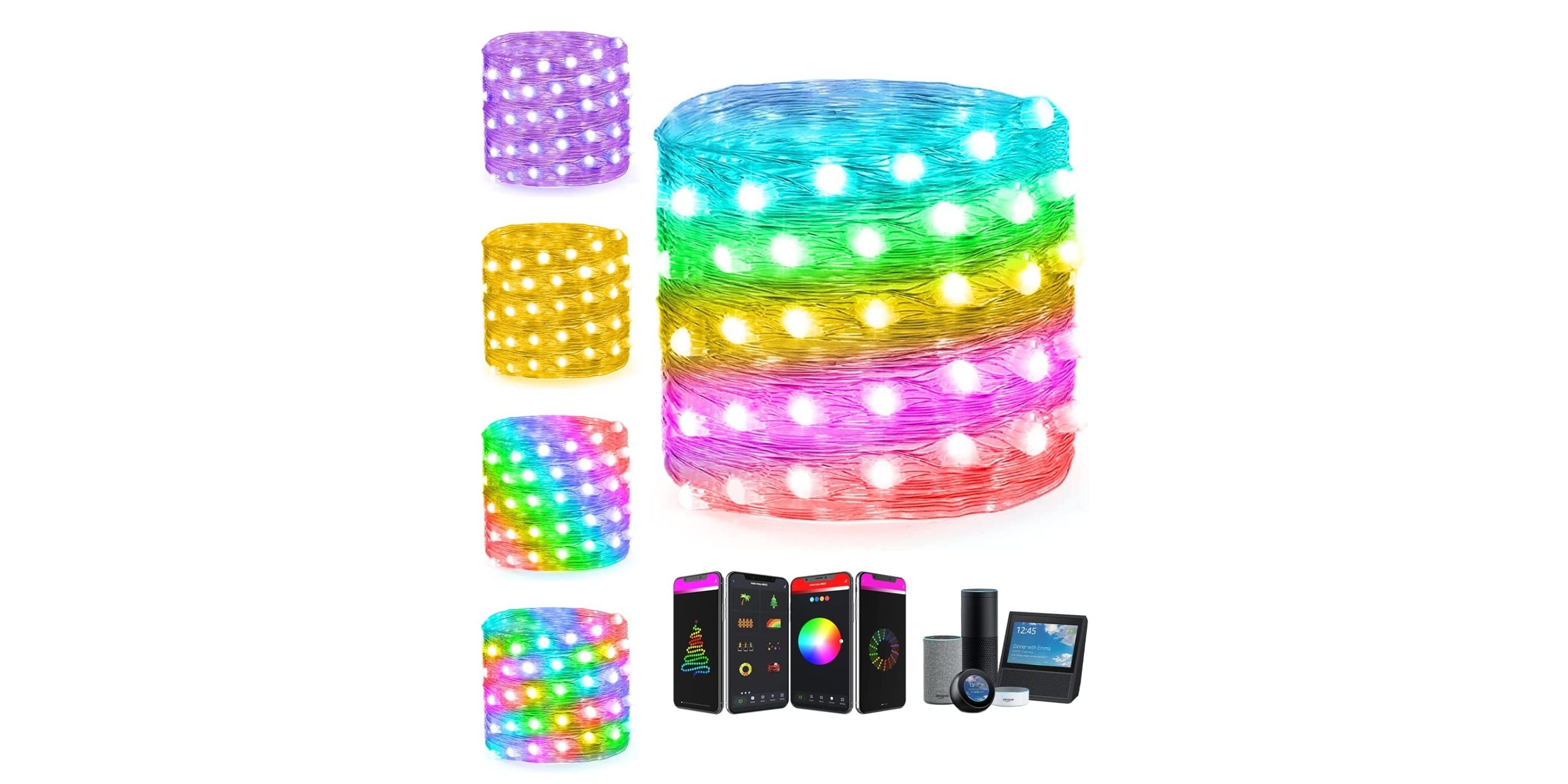 Nobent Smart WiFi Fairy Lights
Best Smart Fairy Lights
$12 $15 Save $3
The Nobent Smart WiFi Fairy Lightsare a fantastic decorative way to add some lighting to any space. These delicate smart lights are on a lightweight, durable string that can hang on almost anything. 
Interanlly, there are impressive features such as voice control, app control, 44 preset modes, and a wide variety of colors to choose from for the lights. Users can even extend their lighting by adding more strings and using the group sharing and control function!
Pros
Bright when on, subtle when off
Wireless control and customization
Extremely versatile decoration
Fairy lights are perfect for decorating areas, especially when they can be controlled from afar. The Nobent smart fairy lights sync with Alexa, Google, and the Nobent app to allow users to completely customize the color and brightness. There are also 44 preset modes for all kinds of activities, from gaming to partying.
Like most fairy lights, the wire the LEDs are attached to is a super fine copper wire that basically disappears when the lights aren't on. The lights are very tiny, but together they create more than enough light to change the entire vibe of a space. Their slight size may also contribute to their super cheap price. These lights won't serve everyone's needs, but gamers looking for fun, customizable decorations may want to add the Nobent smart fairy lights to their list.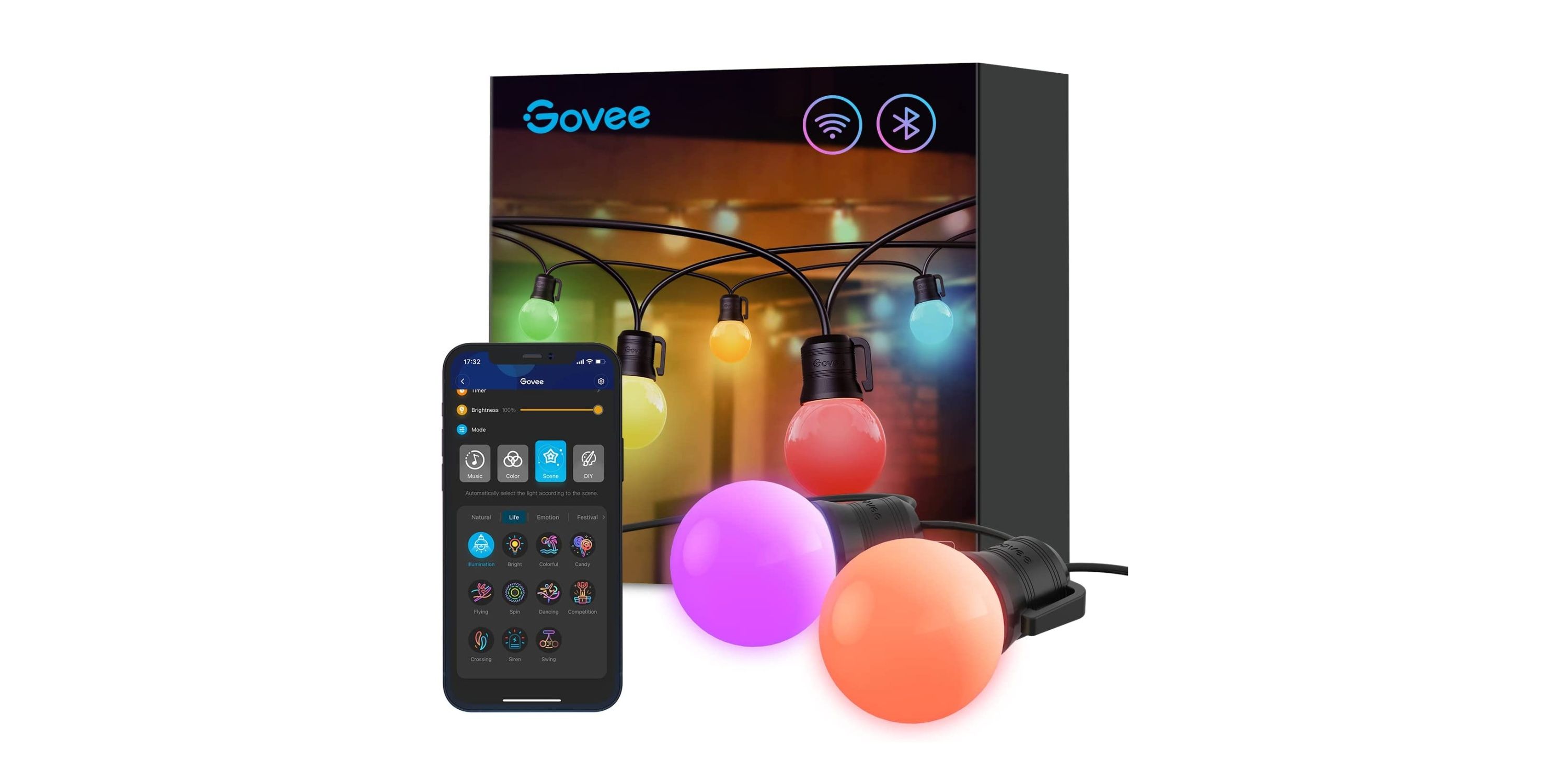 Govee Outdoor String Lights
Best Outdoor Smart Lights
The Govee Outdoor String Lights offer multicolor displays and a convenient timer functionnumber of convenient functions controlled either through the Govee app, Google Assistant, or Amazon Alexa. Built with durable materials, these outdoor string lights can avoid water damage from mild splashes or rain, and the plastic bulbs won't shatter if accidentally dropped.
These awesome lights are perfect for standard lighting on a porch or patio, or for parties and special occassions in nearly any outdoor setting!
Pros
Completely weatherproof
Easy to hang almost anywhere
Very bright despite small size
Cons
Somewhat bland design compared to other outdoor lights
The Govee outdoor smart string lights are a simple yet impressive way to light an outdoor space. As with most smart lights, this string light works with Amazon Alexa, Google Assistant, and the Govee home app. The bulbs can be changed in color and brightness, with the brightest setting being good enough lighting for most small gatherings. The long string is easy to hang over patios and porches, plus each light has a small plastic hook for attaching to other strings or fabric such as an outdoor umbrella.
The lights are fully waterproof and shatterproof, so they can be left outside all the time without having to worry about typical summer storms. It's fun to be able to change the lights at any time, although some non-smart outdoor lights offer designs and features that add a bit more flair to spaces. However, users looking for versatile, stylish outdoor lighting that they can control via app or voice, the Govee outdoor string lights are the best outdoor smart lights available.
More: The Best Smart Home Gadgets
FAQ
Q: Are Philips Hue still the best?
Yes, Phillips has led the charge in modernizing light bulbs to be smart lights and they still hold the top spot for the best overall smart light.
Q: Is a smart lighting system worth it?
Depending on how smart the rest of your home is, a smart lighting system may be the smartest thing you could add. Regardless of existing devices, smart lights are extremely convenient, if expensive.
Q: What are the disadvantages of smart lights?
While smart lights are almost identical to regular lights, their ability to connect wirelessly to devices like Amazon Alexa, Google, and various apps often makes them prohibitively expensive. Budget options exist, but they have far fewer features than the average smart light.
Q: What are smart lights?
Smart lights are lights that can be controlled remotely through wireless devices such as a tablet. Some smart lights can work autonomously, adjusting their settings according to preset triggers like the sun going down or a movie playing.