Players react to U.S. soccer equal pay agreement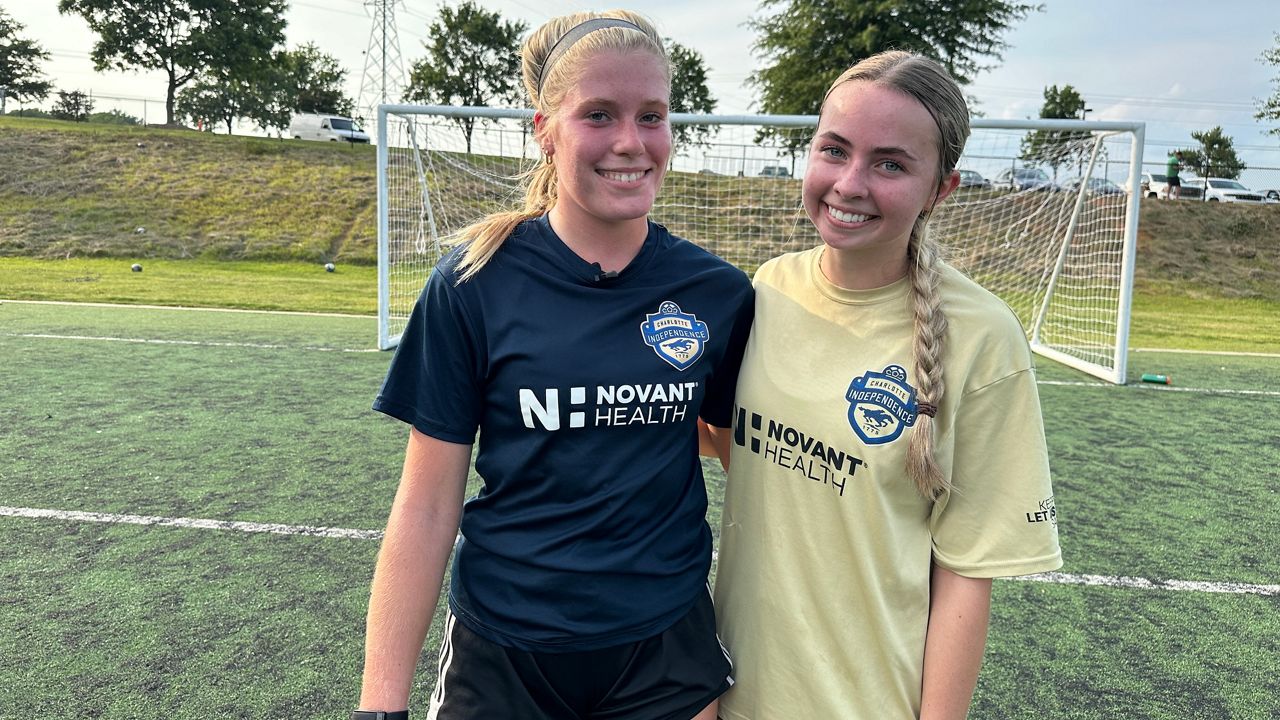 CHARLOTTE, N.C. — Even before the U.S. Women's National Soccer Team made it to the FIFA Women's World Cup, they were already celebrating a victory when it comes to equal pay.
---
What You Need To Know
The women's and men's national soccer teams are receiving equal pay thanks to collective bargaining agreements
Young players for Charlotte Independence Soccer Club are encouraged with the change
They said equal pay is a fair move and an encouragement for young girls in the sport
---
Under collective bargaining agreements, the U.S. Women's National Soccer Team and the U.S. Men's National Soccer Team are pooling the prize money from the 2022 Men's World Cup in Quatar and the 2023 Women's World Cup in Australia and New Zealand. Then, 90% of it will be split equally between both teams and 10% will go to the U.S. Soccer Federation. 
Under this arrangement, the players will also receive an equal percentage of the prize money for the 2026 and 2027 World Cups.
The USWNT, which won four World Cups since the tournament started in 1991, was eliminated from this year's World Cup in the round of 16. 
On Sunday, Sweden defeated the USWNT in a penalty shootout. 
Reese Dejong, who plays for the Charlotte Independence Soccer Team ECLN Academy, enjoys watching the World Cup.
"The soccer is so high quality and it's on a world stage," Dejong said. 
A week ago, she and her teammate Kate Robinson said they supported team USA since the beginning of the tournament.  
"It's not the best this year, but they are still a pretty young team," Dejong said. 
They both agree a big win for the team this year is having equal pay. 
"I think that's a really cool opportunity for both of them because I know that they are all professional athletes and they do all put the same amount of work to get there. I think that it's really awesome. There are steps being made to get there," Dejong said. 
Robinson, who also plays for Lake Norman Charter, is supportive of the collective bargaining agreement. 
"I think it's a huge incentive for young girls to keep playing soccer," Robinson said. 
She hasn't decided whether she'll pursue soccer at the college level. 
"It's something that definitely makes me want to play in my future, knowing that you are going get paid at least the same as men, especially because our women are so good. It's just super important. It's something that motivates me to keep staying in soccer," Robinson said.  
Dejong, who also plays soccer for Cox Mill High School, committed to play at Furman University next year. 
"I'm honestly so excited to take my career to the next level and keep playing because I love playing so much," Dejong said. 
She's not ruling out playing professional soccer in the future. 
In the meantime, the goalie said having equal pay in U.S. soccer could also make a difference elsewhere.
"I think the U.S. Women's National Team is paving the way for the other countries that don't have the same opportunities than they do," Dejong said. 
While the USWNT has its own agreement for pay, most of the world's professional players will rely on FIFA's rules for the prize money earned during the World up. Initially, FIFA announced players would receive at least $30,000 in prize money. However, last month it said the money won't go to the players directly but it will be sent to the federations for distribution.