Indie rock band Hippo Campus, country star Nate Smith to headline St. Pat's festival | Music Features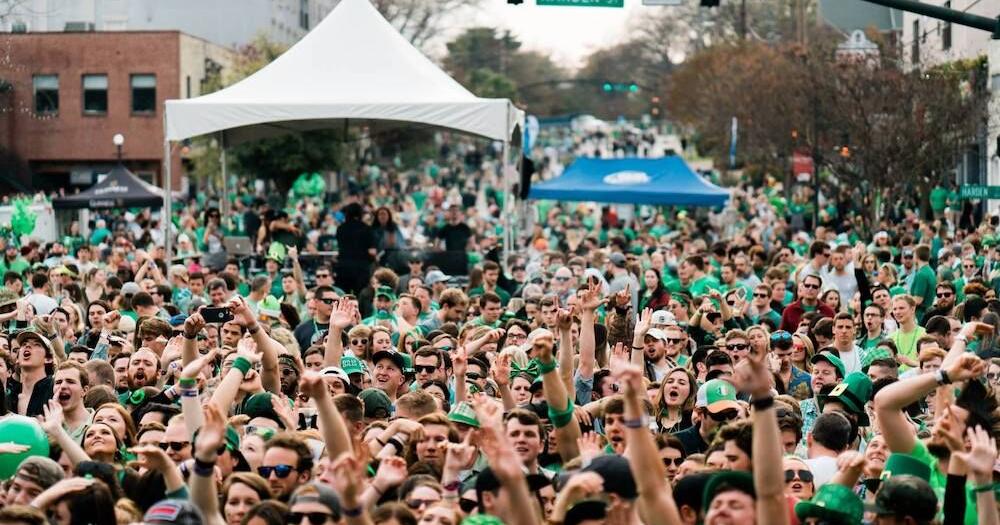 Indie rockers Hippo Campus and Moon Taxi will be joined by Georgia-based country music band Drivin N Cryin and rising country singer Nate Smith as headliners at this year's annual St. Pat's in Five Points on March 18, organizers announced at a press conference Jan. 19. 
The bands join an impressive list of 20 other bands — including longtime performers Villa*Nova, local bands like Stagbriar and Rex Darling and Charleston-based bands like Easy Honey and Doom Flamingo — who will be at one the biggest annual festivals in Columbia. Columbia rapper FatRat da Czar, who made it onto Free Times' list of 30 influential arts and culture names in 2022, will host. 
The festival, which is in its 41st year, is one of the largest of its kind in the Southeast. Each year, it brings in around 30,000 folks, according to organizers. Last year, more than a third of those attendees were from out of town. 
"For more than four decades, St. Pat's in Five Points has been a pinnacle in our community," executive director of the Five Points Association Heather McDonald said. "We work hard throughout the year to make sure the music lineup is eclectic and something everyone can enjoy — from indie rock and alternative, to country and Americana, there's something for everyone at St. Pat's."
Hippo Campus, the five-piece indie rock and pop band from Minnesota, has accumulated more than 2 million listeners on Spotify over their decade-long career and was named one of NPR's favorite new artists in 2017. They've got popular songs like Buttercup and Way It Goes from 2017 album Landmark. 
On the country side of things, Nate Smith, whose songs have amassed popularity on radio stations and Tik Tok alike, is set to perform. At more than 4 million listeners, he's got radio hits like Whiskey on You. 
"We've got another great lineup, a good mix of bands so I think people are going to be excited about getting to see them," said Trae Judy, an organizer who helped book the bands. "People get to experience new music. We've got a lot of bands that people maybe have heard of or seen them play in other markets, but now they're gonna get to play Columbia."
But the music festival, the ticketed event and main draw of the St. Pat's celebration, isn't the only thing that draws attendees. Outside of the musical performances, which will take place across four stages, there'll be the St. Pat's Parade, the one-mile family fun run and 5K/10K runs. 
This year's event will also include a new VIP ticket option, which will cost attendees $100, about $75 more than general admission tickets.
Both general admission tickets and VIP tickets can be purchased at stpatscolumbia.com. 
Here's the full line-up: 
Moon Taxi
Nate Smith
Drivin N Cryin
Hippo Campus
Doom Flamingo
Stop Light Observation
George Fetner and the Strays
Ryan Monroe and Josh Roberts (performing as a duo)
Opus & the Frequencies
The Brook & The Bluff
flipturn
Sam Burchfield
Rex Darling
Travis Denning
49 Winchester
Drayton Farley
Villa*Nova
Stagbriar
Easy Honey
E.Z. Shakes