El Paso pastors provide migrants with shelter and counsel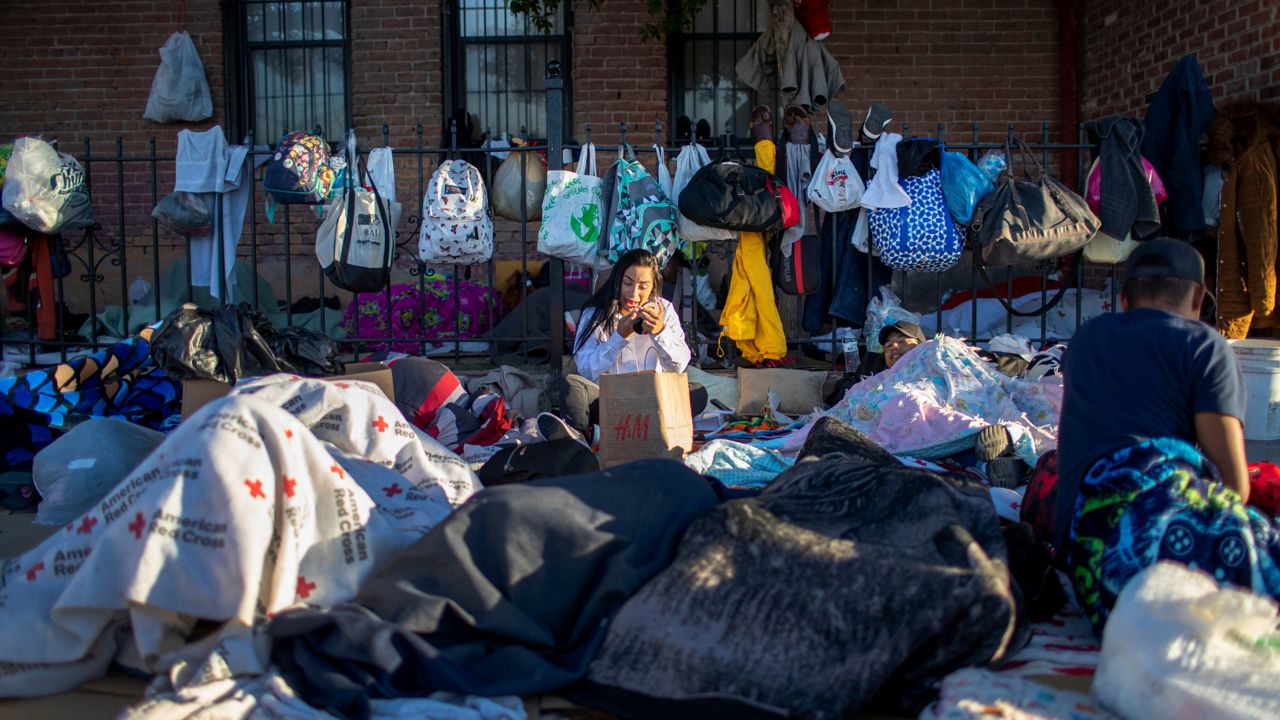 EL PASO, Texas — As changing policies, rampant misinformation and exasperated, fearful crowds converge in this desert city, faith leaders are striving to provide shelter and uplift.
Along with prayers, they are counseling migrants about the daunting challenges that await them on U.S. soil, with enormous backlogs in asylum hearings and the Biden administration's newly announced measures that many consider stricter than the existing ones known as Title 42.
During Thursday morning Mass at Sacred Heart Catholic Church, a few blocks from the border with Mexico, the Rev. Daniel Mora prayed for goodwill in welcoming the crowds of migrants expected to arrive in the city and at the church's gym-turned-shelter when pandemic-era restrictions on asylum-seeking lifted overnight.
"May the asylum promises of this country be renewed," Mora noted in the Mass intentions. In an office next to the historic sanctuary, one of his fellow Jesuits prepared to visit a shelter at a different El Paso parish to counsel migrants who already had crossed illegally and were detained.
"One knows that that this is but one part, that we're halfway on our way," said Tatiana Gamez, a Colombian mother who was released by immigration authorities to a small shelter run by the Catholic parish of St. Francis Xavier, just across from one of El Paso's three international bridges.
"We don't know what's going to happen with asylum. But already to be here safe, it's a relief," she added. She had been listening intently to one of the several daily legal talks that the Rev. Mike Gallagher, who's also an attorney with Jesuit Refugee Service/USA, gives newly released migrants.
Gamez and more than half a dozen family members, including a pregnant niece and the niece's 2-year-old daughter, decided to flee Colombia after being threatened over a piece of land they owned there.
They crossed illegally through a hole in the concertina wire that Texas National Guard soldiers laid out for 17 miles along the dusty Rio Grande riverbanks to prevent mass crossings when Title 42 was originally expected to be lifted in December.
"We wanted to do things well," Gamez added in tears. But they saw more than 1,000 migrants lined up under the merciless sun and strong winds for a chance to be let in by U.S. officials, as has been happening for months.
Hearing that some migrants had slept out there for days under the constant threat of being kidnapped for ransom by Mexican cartels, and fearing a wave of rapid deportations starting Friday, they decided to slip through the hole and spent six days in detention before being released to the shelter.
Faith leaders said one reason for the big surge of migrants earlier this week was the widespread belief that the end of Title 42 restrictions would usher in more deportations of illegal migrants, who will now face a potential five-year ban from coming back to the U.S.
"Trying to get in is their main priority," said Maria Sajquim de Torres, the domestic program director for Jesuit Refugee Service/USA, which also provides counselors in shelters so that migrants can begin to process the traumas – from rape to extortion – most faced en route.
More than 1,000 migrants gathered outside the Sacred Heart shelter alone earlier this week. Authorities closed off the street in front of it last Sunday, fearing another deadly incident like the one where migrants were run over in Brownsville, Texas, Mora said.
Just a few milled about on Thursday, and the shelter – whose maximum capacity is 140 and often has to turn away everyone except women with small children – only hosted 89 migrants the previous night, Gallagher said.
He visits multiple shelters to explain to migrants who have been apprehended for crossing illegally the conditions of their release – including the "notice to appear" in front of migration authorities and later before a judge to make their asylum case.
Some migrants have dates scheduled within a month of arrival in the cities where they're hoping to go. Others have court appearances not scheduled until 2026 or beyond, since the asylum system is straining under historic backlogs.
Wearing a rosary like a necklace, Juaniela Castillo, a Venezuelan, listened intently as Gallagher deciphered her court date – in June 2025 in Orlando, Florida, where she hopes to reach a family member.
She will need to find legal help to file an asylum application well before then – within a year – or she'll lose this temporary relief she's been granted from deportation, Gallagher told her.
With her three children, ages 8, 7 and 3, she traveled through the notoriously dangerous Darien jungle in Panama. After two months on the road, she also passed through a gap in the wall near El Paso and was detained for six days before being released to the St. Francis Xavier shelter.
"I still don't believe it," she said as her children smiled at the pigeons cooing in the shelter's small, shaded patio. "I never lost the faith, never, but one is like adrift, dependent on God."
In a hall set up with cots and tables, Susie Roman, a volunteer at shelter, said she noticed how confused migrants have been by changing policies, and feared the consequences of the latest switch.
"I'm scared they're all going to be out there, and we can't help them," she said.