DVIDS – News – NUWC Division Newport employee wins 2023 Business Women Award from Providence Business News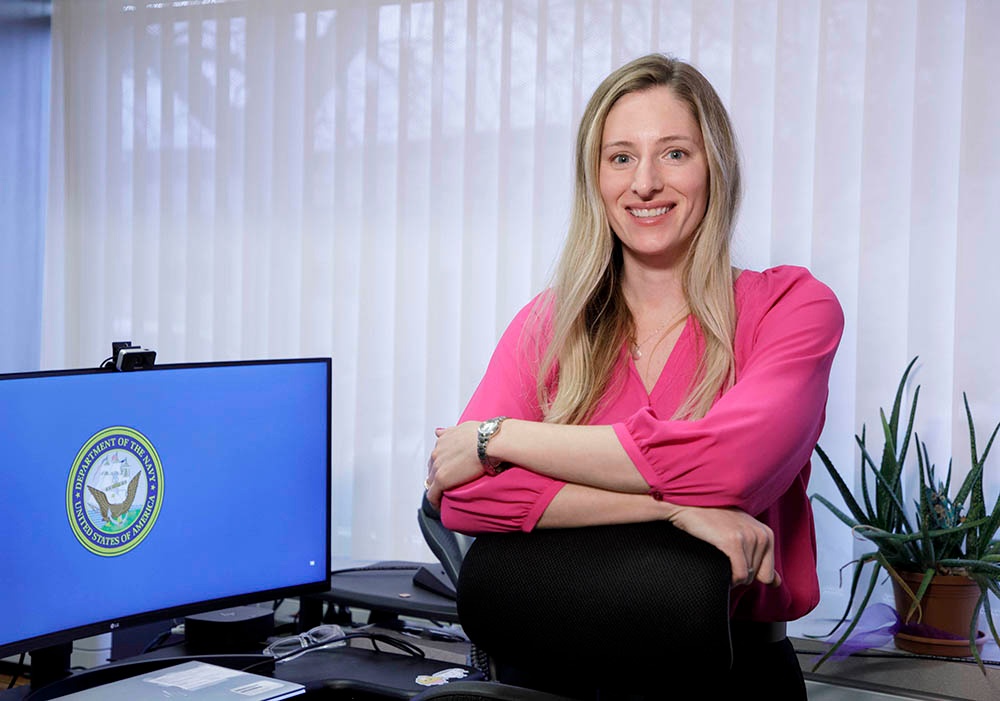 Alison Wicks, head of the Naval Undersea Warfare Center (NUWC) Division Newport Acquisition Policy and Oversight Division in the Contracts Department, recently won a Providence Business News 2023 Business Women Award in the Technical Services Woman to Watch category. These annual awards recognize leading women in various business, government and nonprofit sectors and their work for their respective organizations.
Wicks, a resident of Portsmouth, Rhode Island, has shown a strong commitment to Division Newport during her 16-year career and has made a significant impact on how the Contracts Department supports the mission of the U.S. Navy, the award states.
"Quickly assuming increased responsibility from an entry level contract specialist in 2007, to a senior contracting officer, then a branch head, Wicks now serves as the head of the Acquisition and Policy Oversight Division in the Contracts Department. She has worked diligently to support the ever-evolving needs of this dynamic organization in terms of leadership, regulation, policy, and mission execution. Her meticulous attention to detail, professional courtesy, and ability to tackle difficult jobs quickly established her as a go-to person," the award states.
In her role, Wicks is responsible for maintaining awareness of procurement policy, statues and regulations at multiple levels including the Federal Acquisition Regulations, Department of Defense, Navy and Naval Sea Systems Command regulations. Wicks is responsible for the assignment, scheduling, progress and processing of all policy assignments as well as attending and conducting meetings and training sessions for personnel across her department.
"Wicks and her team also maintained regulatory and policy compliance, while efficiently and effectively executing the mission, and obligating $863 million for fiscal year 2022," the award states. "It is notable that this was accomplished during the post COVID-19 pandemic in which multifaceted information sharing and training was necessary."
Using virtual tools, such as websites and Microsoft Teams, Wicks and her team developed and maintained an up-to-date regulation and policy repository, as well as a robust training program, tools critical to the success of Division Newport's Contracts Department.
Wicks will be honored at a Providence Business News awards ceremony to be held on May 25 at the Marriott in Providence, Rhode Island. To learn more, visit https://pbn.com/event/
Over the past 10 years, eight other Division Newport leaders have won this elite award.
NUWC Newport is the oldest warfare center in the country, tracing its heritage to the Naval Torpedo Station established on Goat Island in Newport Harbor in 1869. Commanded by Capt. Chad Hennings, NUWC Newport maintains major detachments in West Palm Beach, Florida, and Andros Island in the Bahamas, as well as test facilities at Seneca Lake and Fisher's Island, New York, Leesburg, Florida, and Dodge Pond, Connecticut.
Join our team! NUWC Division Newport, one of the 20 largest employers in Rhode Island, employs a diverse, highly trained, educated, and skilled workforce. We are continuously looking for engineers, scientists, and other STEM professionals, as well as talented business, finance, logistics and other support experts who wish to be at the forefront of undersea research and development. Please connect with NUWC Division Newport Recruiting at this site – https://www.navsea.navy.mil/Home/Warfare-Centers/NUWC-Newport/Career-Opportunities/ and follow us on LinkedIn @NUWC-Newport and on Facebook @NUWCNewport.
| | |
| --- | --- |
| Date Taken: | 05.12.2023 |
| Date Posted: | 05.12.2023 14:30 |
| Story ID: | 444663 |
| Location: | NEWPORT, RI, US  |
---
| | |
| --- | --- |
| Web Views: | 13 |
| Downloads: | 0 |
---
PUBLIC DOMAIN  


This work, NUWC Division Newport employee wins 2023 Business Women Award from Providence Business News, by Public Affairs Office, identified by DVIDS, must comply with the restrictions shown on https://www.dvidshub.net/about/copyright.