Australian Open: Novak Djokovic wins his 10th title in Melbourne to join Rafael Nadal on 22 Grand Slams | Tennis News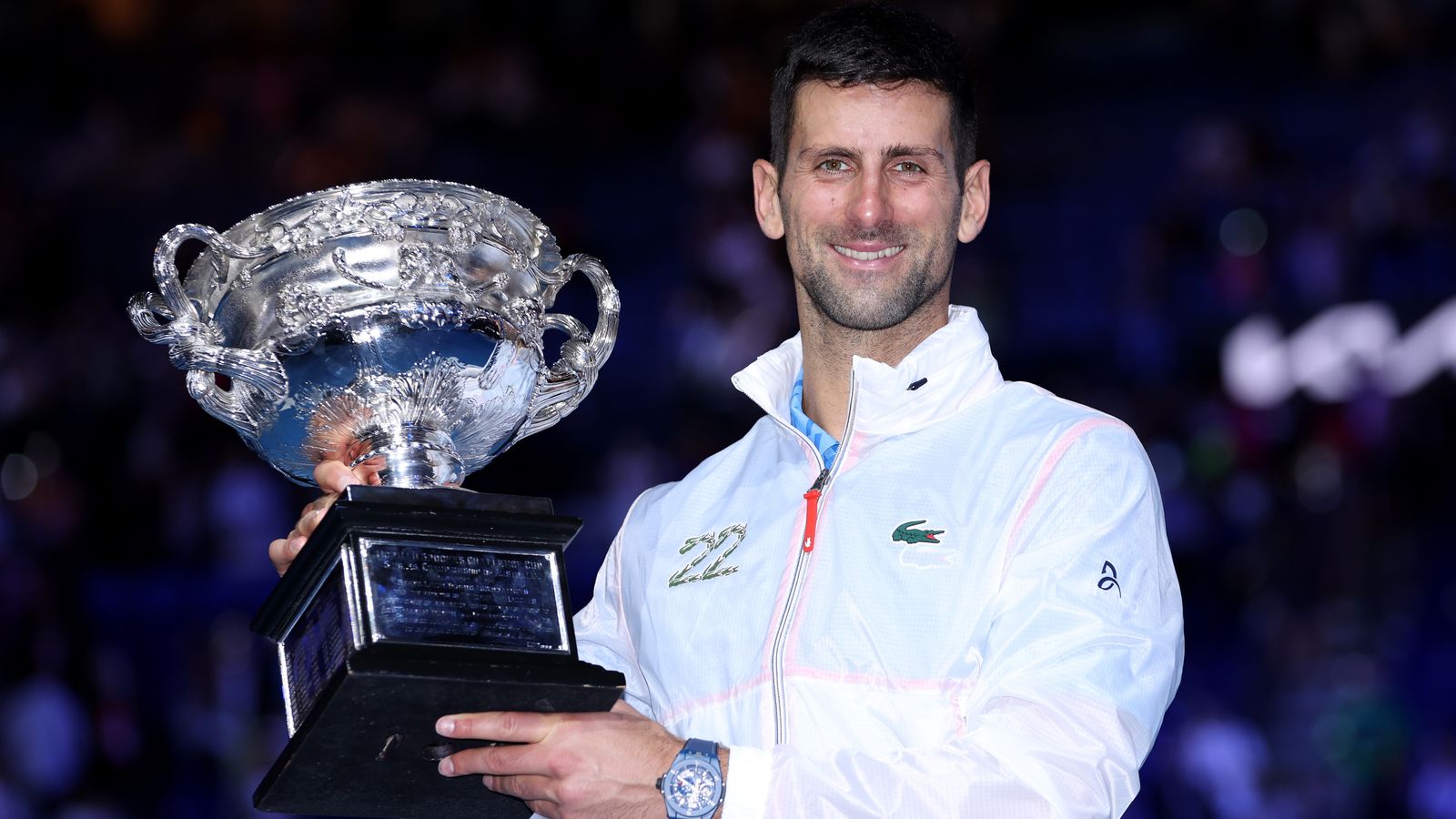 Novak Djokovic sealed a record-extending 10th title at the Australian Open with 6-3 7-6 (7-4) 7-6 (7-5) victory against Stefanos Tsitsipas to equal Rafael Nadal's all-time record for most Grand Slam men's singles titles with 22.
Djokovic dropped just one set all tournament despite saying he feared a left hamstring problem might force him to withdraw, and he finished with a superb win over first-time Melbourne finalist Tsitsipas to become the fifth player to win 22 Grand Slam singles titles, after Margaret Court (24), Serena Williams (23), and Steffi Graf and Nadal (both 22).
Djokovic also reclaims the world No 1 ranking from Carlos Alcaraz, and it would be very difficult to argue that he does not justify that position having once again put the younger generations in their place.
Most Grand Slam singles titles (all time)
Margaret Court – 24
Serena Williams – 23
Novak Djokovic – 22
Steffi Graf – 22
Rafael Nadal – 22
Roger Federer – 20
Helen Wills Moody – 19
Tsitsipas vs Djokovic: Tale of the Tape
| | | |
| --- | --- | --- |
| 15 | Aces | 7 |
| 3 | Double Faults | 3 |
| 72% | 1st serve win percentage | 82% |
| 51% | 2nd serve win percentage | 62% |
| 1/3 | Break points won | 2/5 |
| 12/17 | Net points won | 10/15 |
| 40 | Total winners | 36 |
| 42 | Unforced errors | 22 |
| 94 | Total points won | 112 |
His status in Australia, meanwhile, is unmatched, with the 35-year-old winning a 28th consecutive Australian Open match and a 41st in a row in the country as a whole.
Djokovic was overcome with emotion after climbing into the stands to celebrate with his family.
He lay down in the player box sobbing uncontrollably before recomposing himself for the presentation ceremony.
Wearing a jacket bearing the number 22, Djokovic lifted the Norman Brookes Challenge Cup for a 10th time.
He said: "This has been one of the most challenging tournaments I've ever played in my life. Not playing last year, coming back this year. I want to thank all the people that made me feel welcome, made me feel comfortable to be in Melbourne, to be in Australia.
"There's a reason I've played my best tennis on this court. Only my team and my family know what we've been through in the last four, five weeks. This probably is the biggest victory in my life considering the circumstances."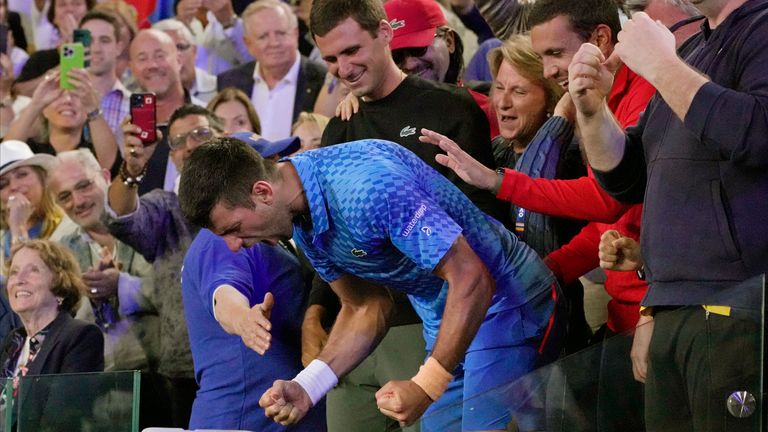 With the heavy strapping on his left hamstring missing for the first time all tournament, Djokovic hit top form straight away at the Rod Laver Arena, winning the first set in 36 minutes.
Tsitsipas, appearing in his first final in Melbourne, was forced to save two break points in his first service game but came unstuck two games later.
Djokovic, who came from two sets down to defeat Tsitsipas in the 2021 French Open final, lost just five points on serve before taking the set 6-3.
His father Srdjan was again absent from Djokovic's players' box having opted to stay away from his semi-final win after being filmed with pro-Russia demonstrators at Melbourne Park last week.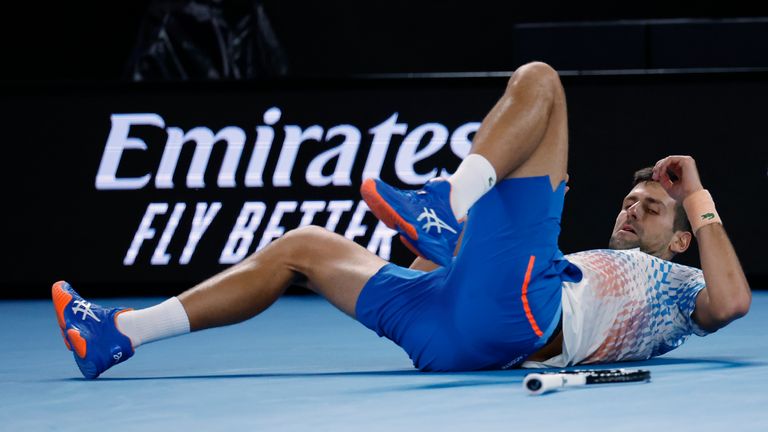 Tsitsipas needed to get a foothold in the match and he did so at the start of the second set, finding a better length and greater aggression on his groundstrokes.
Djokovic was no longer so comfortable in his service games, while there was a brief moment of concern when he took a tumble behind the baseline in the seventh game, but he quickly brushed it off.
The Greek fans were making themselves heard now, and excitement rippled around Laver when Djokovic missed a routine backhand to offer up his first break point of the match, which was also a set point.
But Tsitsipas was unable to take his opportunity, with Djokovic powering away a forehand at the end of a long rally, and he held to force a tie-break.
Both men struggled to find their best tennis, with Tsitsipas handing Djokovic a 4-1 lead only for the Serbian to give the advantage back, but more errors arrived from the Greek and Djokovic clinched it 7-4.
Tsitsipas gave himself hope with a first break of the Djokovic serve to start the third set only to hand it straight back, showing his frustration at his opponent's remarkable powers of defence.
Tsitsipas withstood pressure from his opponent to force another tie-break, but Djokovic got off to the perfect start, opening up a 5-0 lead.
He then played some of his best tennis of the match to pull back to 5-6 but Djokovic served out for victory.
Age is just a number for Novak
Novak Djokovic is third oldest player in the Open Era to secure the title at the Australian Open, younger only than Ken Rosewall (in 1972 and 1971) and Roger Federer (2018).
Tsitsipas received his runners-up trophy from four-time former Australian Open champion Ken Rosewall.
The 24-year-old said: "Novak I don't know what to say, I think it speaks for itself what you have achieved so far. Congratulations. I admire what you have done for our sport, I think you make me a better player.
"I've had the privilege to play a lot of high-intensity matches. These are the matches I've been working my entire life for. I'd like to thank you for pushing our sport so far.
"It's not easy. Another final at a Grand Slam but I'm always willing to go back on court and work harder."