Anti-LGBTQ+ hate driven by extremist groups, study finds
By Nicole Sganga
/ CBS News
The Anti-Defamation League and GLAAD documented 356 anti-LGBTQ+ nationwide incidents motivated by hate between June 2022 and April 2023, with over one-third of them targeting drag shows and performers, according to a new study released Thursday. 
The first-of-its-kind study offers new numbers amid a familiar backdrop in American culture and politics, as the nation confronts a yearslong wave of biased-driven hate, while falling short of assessing its full toll. 
Nearly half of all recorded incidents — 49% — were carried out by those individuals associated with extremist groups. The first-of-its-kind tally accounts primarily for incidents of harassment, but the count also includes 40 incidents of vandalism and 11 incidents of assault. 
Incidents were documented across 46 states and the District of Columbia, with California, Florida, New York and Texas recording the highest numbers.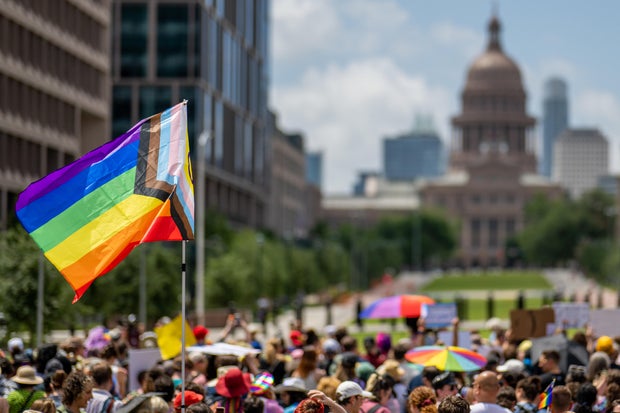 The report indicates conspiracy theories involving "grooming" ranked first among cited anti-LGBTQ+ tropes, with at least 191 anti-LGBTQ+ incidents of harassment, vandalism and assault making explicit references to "grooming" or "pedophilia."
In its study, the ADL and GLAAD noted that "the anti-LGBTQ+ 'grooming' conspiracy theory falsely claims that the true goal of the LGBTQ+ community is to facilitate the sexual abuse of children."
Last December, at least 50 armed individuals led hate-filled protests near the "Holi-Drag Storytime" at a church in Columbus, Ohio. Attendees — some associated with notorious extremist and white supremacist groups the Proud Boys, Patriot Front and "White Lives Matter" — exhibited Nazi salutes and led chants of "reclaim America " outside the event. At least one banner read "Groomers Not Welcome," according to ADL and GLADD. The drag show was ultimately canceled following safety concerns.
While 138 incidents targeted drag shows and performers, 33 incidents involved schools and educators, with 23 incidents related to healthcare facilities and providers, the study found. 
Last August, Boston Children's Hospital staff members were inundated by bomb threats after a viral TikTok video prompted rampant misinformation about their treatment of transgender patients.
According to the report, at least two bomb threats in the following months specifically cited the hospital's Gender Multispecialty Service (GeMS) program, with protests featuring a range of anti-LGBTQ+ rhetoric, including signs reading, "gender clinics harm children."
"The targeting of gender-affirming care mischaracterizes health care for transgender adults and youth using inflammatory terms like 'genital mutilation' or 'castration,' dismissing the widespread consensus of medical associations and providers around best practices in such care," researchers indicated in Thursday's report. 
Hate targeting the LGBT+ community commonly intersects with other forms of bigotry, including racist or antisemitic slurs or ideologies, ADL and GLAAD noted, citing at least 128 incidents that also included antisemitic tropes and 30 incidents incorporating racist tropes. 
Thursday's report comes amid a surge of legislation aimed at curbing the rights of gay and trans youth, which by ADL's count has now surpassed 400 proposed bills seeking to restrict the rights, freedom and fair treatment of LGBTQ+ people.
The study also analyzed online harassment, including through direct messages, listservs or social media but "does not attempt to assess the total amount of anti-LGBTQ+ hate online."
Incidents documented in the study included both criminal and non-criminal incidents of harassment, vandalism and assault against individuals and groups "as reported to and identified by ADL from victim reports, the media and partner organizations."
Anti-LGBTQ+ incidents were defined by researchers as "vandalism of property or as harassment or assault on individuals, groups and/or institutions, where either 1) circumstances indicate anti-LGBTQ+ animus on the part of the perpetrator or 2) a reasonable person could plausibly conclude they were being victimized due to their real or perceived LGBTQ+ identity or affiliation."
While not all incidents of hate documented by the advocacy groups met the definition of a hate crime, the analysis mirrored the limited data gathered by the federal government, the study said.  
From 2020 to 2021, hate crimes reported to the FBI rose by more than 11%, marking a 12-year high and 71% spike in incidents targeting LGBTQ+ people, according to the agency's numbers released in March. 
While experts routinely note that the FBI's dataset offers a useful look at hate crimes trends and enforcement, many warn that most bias-related incidents go unreported, with definitions and laws governing hate crimes varying widely from state to state.
Still, many law enforcement agencies fall short of reporting hate crimes to the FBI. Police departments in New York and Los Angeles – the nation's two largest agencies – top a long list of the approximately 7,000 police forces that did not report 2021 hate crimes to the federal government. 
Members of the LGBT community are nine times more likely to be victims of violent hate crimes, according to a study published last year by the Williams Institute at UCLA School of Law. Researchers who analyzed hate crime data from the 2017-2019 National Crime Victimization Survey also found that victims of violent hate crimes are more likely to be younger, have a relationship with their assailant, and have an assailant who is White.
Last month, DHS issued an intelligence bulletin warning law enforcement officials nationwide of an increase in threats of violence against the LGBTQIA+ community, driven by domestic violence extremists targeting "drag-themed events, gender-affirming care, and LGBTQIA+ curricula in schools." 
Despite the troubling trend, GLAAD's Accelerating Acceptance Report, published earlier this month, found that support for equal rights for the LGBTQ+ community continues to rise, with 91% of non-LGBTQ Americans surveyed agreeing that LGBTQ people should have the freedom to live their life and not be discriminated against. 
U.S. adults' identifying as lesbian, gay, bisexual, transgender or something other than heterosexual held steady in 2022, at 7.2%, Gallup found. 
— Cara Tabachinick contributed to this report.
CBS News reporter covering homeland security and justice.
Thanks for reading CBS NEWS.
Create your free account or log in
for more features.